Delicious and colorful fruit, aromatic flowers, evergreen leaves: Citrus trees have much to offer the eyes, nose and tastebuds!  The Bay Area plays gracious host to many varieties, all of which are believed to originate in the Southern hemisphere.  The East Bay's hot summers and mild winters create excellent conditions for sweet culinary results. Many varieties are suited to-or have been adapted to-moderate climates as well, making them ideal for coastal areas like San Francisco and Marin. Many citrus can be found in full-height or dwarf sizes, making them a flexible choice for gardens of varying sizes.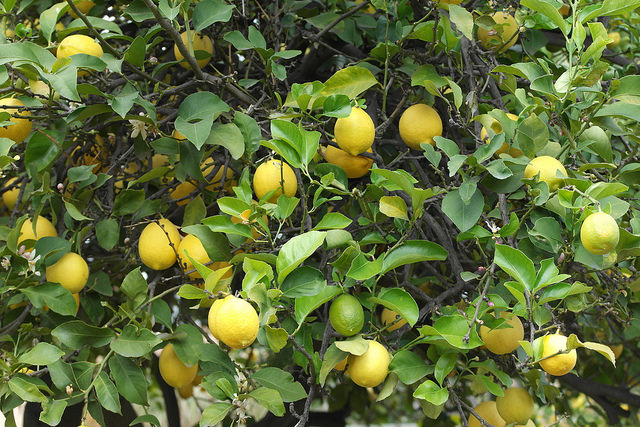 Culture
All citrus trees have a healthy appetite for nitrogen and will thank you for regular doses of fertilizer. You – or your trusty gardener – can look for citrus-specific fertilizers that return nitrogen as well as manganese and zinc to the soil chemistry. Citrus enjoy good drainage and, once established, their irrigation needs typically match most other Bay-friendly plants.  Their most common natural enemies in the Bay Area are Scale and the Citrus Leafminer. These pests can also attract Argentine Ants who feed on the honeydew they secrete. A healthy spray of Neem Oil can help, though typically in the Bay Area, damage is not extreme.
Citrus don't generally need much pruning, but can be kept to a desired height or size (within reason). Late spring is the best time for pruning, but touch-up work can be done any time of year. Most citrus trees in California are grafted and any suckers shooting up from below the graft should be pruned down to the base.
Varieties
A few citrus, like grapefruit, really need HOT summers to get their juices flowing. They're best left to growers in Florida and Southern California. But there are so many others we can grow here: Lemons, Limes, Kumquats, Mandarins, and (in warmer areas of the East Bay) Oranges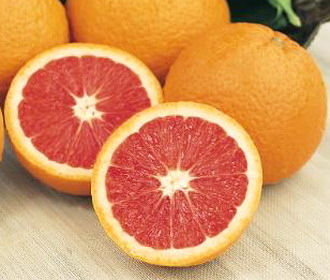 Sweet orange trees offer a pop of color – often in the more muted months of winter – and an excellent addition to any lunch.  Oranges do best with high heat in summers and will thrive in inland East Bay climates.  The Washington Navel varieties are the most popular on the West Coast.  Standard trees can reach 20-25 feet and dwarf stock reach 8-12 ft.  Pictured left, the Cara Cara variety bears an enticing rosy-fleshed fruit and rich flavor.
The Meyer Lemon is a classic in California and the Bay Area is no exception.  The Meyer Lemon and the Eureka (more standard in grocery stores) differ in several ways from skin thickness to flavor.  The real advantage to Meyer Lemons is their resistance to disease allowing for simpler maintenance.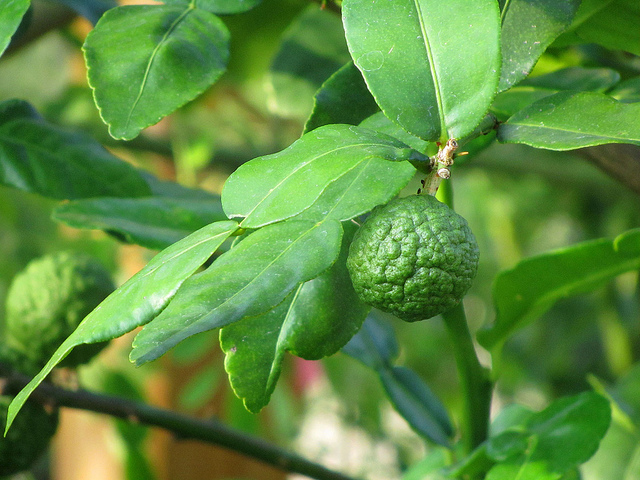 Lime trees are an excellent slightly more understated choice for Bay Area gardens.  The Bearss variety is the most successful in California and produces a juicy seedless fruit that can ripen year round, though crops in winter to late spring are most common. Another more recently popular variety is the culinary Thai lime (I love the latin name, Citrus hystrix–say it ten times fast). The bump texture of the fruit skin provides interest to any garden bed or large planter. The real value of this plant, though, is not the fruit flesh, but the rind and leaves. Both are used in classic Southeast Asian cooking, to enrich the flavors of curries.
Uses
As many gardeners of culinary plants will tell you, citrus trees – like many edibles – often present the happy problem of a surplus of fruit!  I recently made an excellent lemon meringue pie with some surplus Meyer Lemons from a client's tree – delish!  Got a potluck to go to?  Consider bringing a beverage instead of a dish.  Fresh juice is a crowd pleaser and juicing is a super fun activity to do with kids.  Sick of paying Bay Area prices for organic jams?  Make a lemon curd or orange marmalade to spread on your morning toast.  Combine orange juice with soy sauce, ginger, and toasted sesame oil for a delicious stir-fry marinade – yum!
- ebfriend