By July, gardeners may be noticing that their garden doesn't look as fresh and vibrant as it did in spring. During my first few years of gardening, I focused on spring annual blooms and then the rest of the year my garden looked somewhat like a wasteland! When gardening in the lovely Bay Area, one can have blooms and loveliness year-round. Penstemon, Crocosmia and Rudbeckia are some of my favorite summer-bloomers. And the crazy-gorgeous Salvias and Cupheas! Flowering shrubs like Hydrangea quercifolia (Oak-leaf Hydrangea) start in late spring and will take you into autumn. For more inspiration, go to your local nursery or take a walk around your neighborhood to find out what blooms this time of year.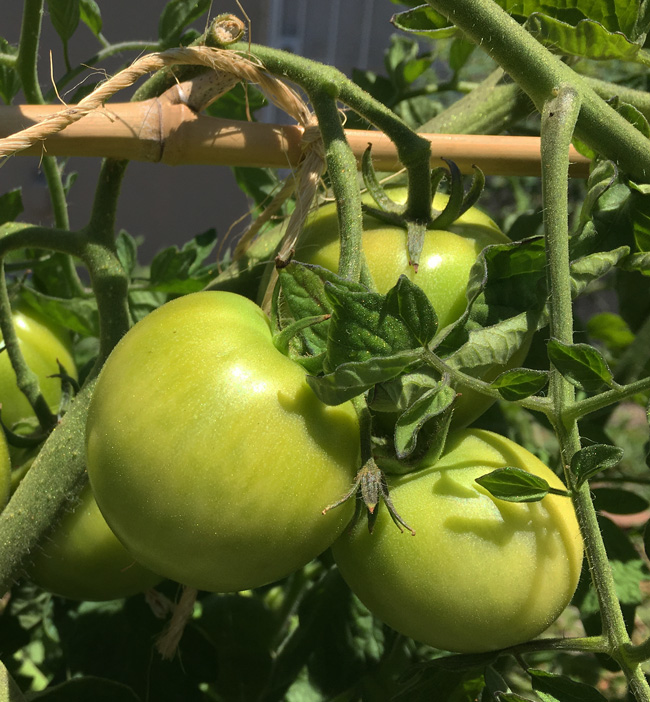 In the Ornamental Garden:
Weed Control: Especially if you have a home near open space, remove weeds and grasses at least 30-40 feet from the house to reduce risk of fire.
Water: Watering in early morning is best for proper plant hydration, reducing evaporation and preventing disease. A thick layer of mulch will keep the moisture in soil as well.
Divide Irises: This should be done every three to four years depending on compaction of bulbs. Pull up the bulbs with a shovel or digging fork, and ease them apart by hand. Replant and share extras with neighbors.
Plant: Fill in empty spots from long-gone spring annuals with flowering perennials like Asclepias (Milkweed) or a pretty grass like Stipa arundinacea (Pheasant Tail Grass). New plants need to be kept well-hydrated during the long, hot days of summer.
Pruning: Remove water sprouts and shorten long branches on trees and shrubs. Shorten new growth on fruit trees to outward-facing nodes.
Fertilize: Most anything in flower or budding can be fertilized now (Roses especially!). Water well if soil is dry, add a nice balanced organic fertilizer, and water again. We usually do not recommend fertilizing natives or Australian plants.
Remove spent blossoms on all flowering plants.
Prune new growth of Wisteria back hard (6" from main branches.) It will look better and produce a lot of flowers next year.
Look for aphids, mites, thrips and whiteflies. Use neem oil or other organic products to control. Fuchsias should definitely be sprayed to prevent mites.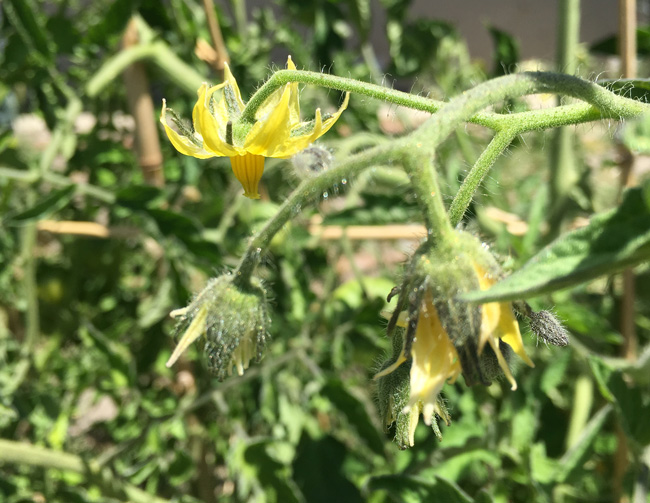 In the Edible Garden:
Harvest! Pick fruits and vegetables when ready/ripe. Don't let those zucchini get too big! Clean up fading leaves and decaying matter from around vegetables to reduce disease potential.
Water: Vegetable and fruit plants tend to come from hospitable climates and need more water than Mediterranean-climate garden plants. Do not spray water on plants like squash and melons that are susceptible to powdery mildew. Don't forget to water and fertilize your citrus every fews weeks. Reducing water to tomatoes once they're setting fruit can give the tomatoes more flavor.
Plant or sow another round of beans, radishes, carrots, salad, cilantro and basil. Salad greens, cilantro and basil like a bit of afternoon shade in the heat of the summer.
Prune and thin fruit trees: Summer pruning helps to keep fruit trees to a manageable size. Cut back to an outward-facing node (growing point or leaf) and thin the fruit so that branches don't get too heavy and break!
- ebfriend