In this series we profile four plants (one for each season) that share a particular trait.
This episode features five shrubs with yellow flowers. Wait, five? Yup–because one of them flowers year-round! That's right, our first shrub quickly became one of my favorites. Check it out, and then read on to find out about the other four:
DESSERT FIRST: Island Bush Poppy, Dendromecon harfordii
Island Bush Poppy, Dendromecon harfordii (you'll see that phrase 'mecon' in a lot of poppy-family names, like Meconopsis and Arctomecon) is from the Channel Islands of southern California.  It is evergreen with waxy, eucalyptus-blue paddle-shaped leaves, and puts out yellow 2.5″ flowers that tell you immediately that it's a poppy. While the bloom season is mainly spring and summer, an Island Bush Poppy that I planted a year ago in coastal Point Richmond, in view of the bay, hasn't stopped flowering yet.
Island Bush Poppy is happiest in full sun and in soil with good drainage, but Las Pilitas nursery suggests that it will be happy enough in clay so long as irrigation is minimal (though some sources say the clay may shorten its lifespan–but you can always plant another!) Like many native California shrubs, this one doesn't really want summer water. Deer may nibble on the tips of the stems, but the damage is minimal and new growth springs right back. You can keep this shrub pruned if you need to, and if yours is getting leggy then a good cutting-back is just the ticket. Unpruned, it wants to be 6-8 feet tall and wide, sometimes larger.
Island Bush Poppy establishes its new roots best in the rainy season, so plant it in late fall or winter. It may be a struggle to get it to 'take' in spring or summer. And the roots are brittle, so don't muss them up too much when planting.
A very similar species, D. rigida, grows on the mainland, has much narrower leaves, and is considered slightly less desirable for garden culture. Supposedly, Island Bush Poppy (harfordii) has a longer bloom season than Bush Poppy (rigida).
SPRING: Japanese Rose, Kerria japonica
Kerria japonica is not particularly unusual, but still uncommon. It is known for its delicate light-green leaves, bright green stems year-round, and especially for sweet, bright yellow flowers in spring.
Kerria gets along without too much trouble: it loves a dappled or partially shaded position, where the flowers really light up. I will look better with some regular watering, but will survive a semi-drought watering regime once established. The arching stems don't have a particularly architectural form, so grow it as a background plant or among other plants. Cut the branches back as needed; they may grow up to 6-8 feet if happy, but size is easily controlled. The base of the plant will slowly expand outward to create a small thicket of stems. If it ever gets out of control, just cut it to the ground and watch it rebound.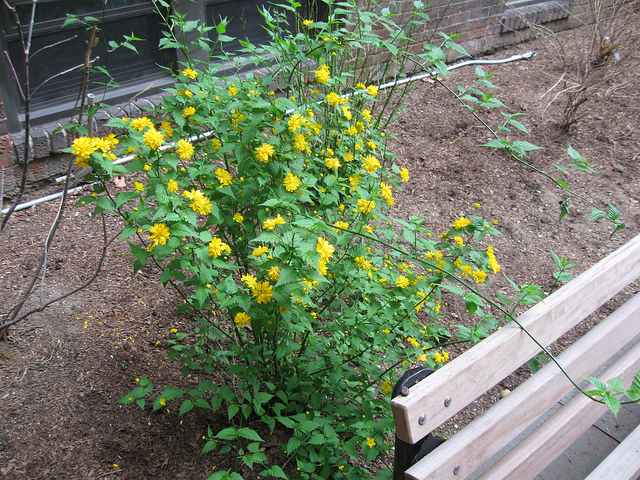 This photo shows the somewhat rambling nature of the stems. This variety, Pleniflora, has double flowers but they're a bit smaller. Many people prefer the simple 5-petal flowers. The bright green stems have potential in floral arrangements, even without the yellow flowers.
SUMMER: Floribunda Rose 'Sunsprite'
With all the yellow flowers to choose from in summer, I picked a boring old rose!? Well, wait until you see and smell: our favorite yellow rose has the most wonderful nose, which is often lost in modern hybrid roses, and it withstands most of the common leaf ailments other roses suffer (rust and black spot). It's a medium-small shrub (rarely over 3′) that will flower repeatedly all season.
The sweet yellow of this rose is gentle, not gaudy, yet bright enough to stand up to the other flowers in a mixed planting. Weeks Roses, a large grower, describes the fragrance as "sweet strong licorice" and ranks this rose among its top ten–and the only yellow one in that ranking!
AUTUMN: Witch-hazel, Hamamelis

Ok, a yellow-flowered shrub that performs at the end of the growing season was definitely a tall order. We haven't grown this but have always admired the strange, delicate flowers of this graceful deciduous shrub.
This photo that I took in the woods in upstate New York in October shows the foliage beginning to turn a bright yellow, and the frilly flowers. It also hints at the elegance of the structure of the shrub; the combined effect of these long, horizontal branches is a nice dogwood-like irregular tiered architecture. This shrub loves a shaded spot!
Many hybrids and cultivars have been produced by horticulturalists, with showier flowers in colors ranging from yellow to orange and brilliant red. Witch-hazels come from generally moist forests, so they really appreciate a little more water than modern water savers want to sign up for. But given the opportunity to use this shrub, I would go for it!
WINTER: Golden Currant, Ribes aureum v. gracillimum
The Golden Currant is a little-known gem of native California shrubs. It looks lovely but unassuming for much of the year, with cute little palmate grass-green leaves. Then in January, those leaves (which sometimes drop off for a few months in winter) are replaced by clusters of yellow drooping flowers all up and down the thornless stems. R. aureum v. aureum has all-yellow flowers; gracillimum has orange-red centers and is the primary cultivated variety.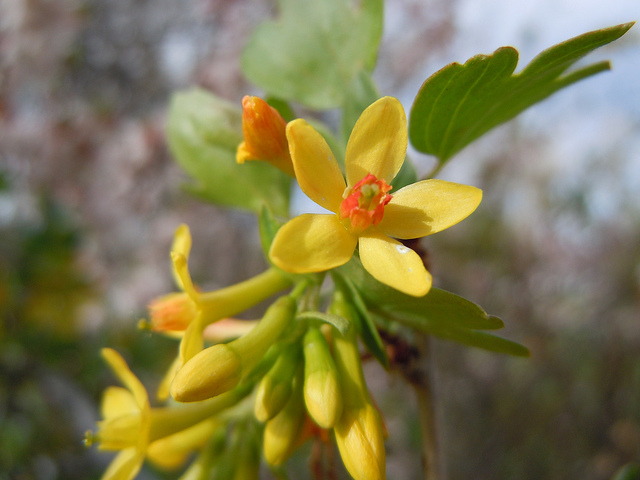 Golden Currant, like many native currants, can stand up to a dry summer but loves some supplemental water, and can take full sun near the coast but really likes a bit of shade (or a lot–quite adaptable!) The thin stems are a bit on the delicate side, so it won't be ideal in a really windy spot. It will grow to about 6'x6′ and will try to spread slowly by suckers, but is easily managed, and can even be espaliered! Insects will love the flowers and other animals, including humans, will enjoy the summer fruits: this is among the more enjoyable of the many technically-edible native currants.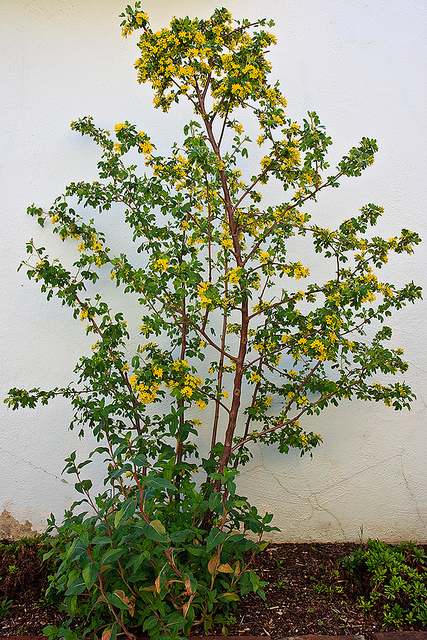 For more on native Currants, including this one, check out this article in Pacific Horticulture.
- ebfriend